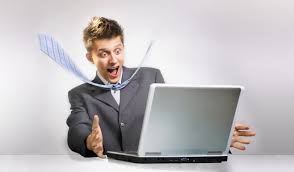 Perhaps the most difficult aspect of internet addiction is that many people do not believe in its existence. The internet is a relatively new phenomenon in our lives. We have not had many years to study it from a psychological or sociological perspective. We are unsure of its long term ramifications toward society and humanity at large. However, one thing we have identified about it is that it has addictive qualities. Similar to a gambling addiction, an internet addiction is a behavior that gives immense pleasure to some people, so much so that certain people begin to use the internet compulsively and lose control of the amount of time they spend on it.
Sometimes the phrase "anything can be an addiction" is thrown around lightly. While a great number of things can have appeal to a great number of people, not everything is addictive. The internet came to be defined as addictive through a certain set of qualifications. The internet was found to have a particular effect on people that rivaled the effect of gambling or sex. Because the internet revolutionized the not only the way we access information, but the way we maintain relationships and keep ourselves entertained, it does not quite compare to anything else that has ever been available. Its novelty has become a cultural obsession, and for many people, an individual addiction.
For some people, time on the internet creates the pleasure chemical dopamine within their brains. Dopamine is universally the brain chemical that is released when we are experiencing something rewarding and pleasurable. Substances and activities that tend to create more dopamine for people than others tend to be the ones we identify as addictive. Not everyone can produce dopamine at the same rate. Some people have to work much harder to achieve dopamine. The healthy way of achieving it is to do something extraordinary, like start a business and work to make it succeed or climb a 14,000 foot mountain. The unhealthy way of achieving it is through addiction. Sadly, the internet with all its uses and wonders, has become an addiction modality.